Posted May 15, 2020 at 1:00 pm.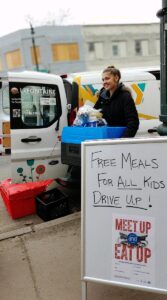 /ymca-providing-free-grab-and-go-meals-for-children-and-youth-18-years-and-younger/\
More good good news. Atlas foods will be donating fresh meats and quality cheeses as part of the USDA farmers to family food box program. Atlas has also launched a new online marketplace to provide consumers with groceries, cleaning supplies, and personal protective equipment at wholesale prices. There are neighborhood pickup sites across the region and at the warehouse, as well as delivery options. Atlas meat and cheese additions to our grab and go meals are available in limited quantities every Friday through June 26, 2020. We will rotate which sites will receive these items each week so all sites will benefit from this opportunity.
LaGrasso Bros.http://www.lagrasso.com/ continues to partner with our YMCA to provide fruits and vegetables to families every Friday. Families will receive 15 pounds of fresh produce every Friday until June 26, 2020 while supplies last as part of the USDA farmers to family food box program. The YMCA drive thru grab & go meals sites continue full operation the week of June 1, 2020. Families are given 4 breakfast and 4 lunches per child; that is a grand total of 8 meals per child. Our aim is to provide freshly prepared meals to last each child four days.
All meals will be available at each community sites two days each week: Mondays and Fridays or Tuesdays and Fridays. We will be available at all 20 sites every Friday to ensure families will have food for their children for the weekend. In addition, our Peaches and Greens location in Detroit will be open 5 days each week Monday – Friday. Please review the schedule below for specific days and times for the week.
Our meals include fresh fruits, vegetables, whole grains and milk. Families may receive 1 meal bundle per child on each visit. This includes four breakfast meals and four lunches, along with milk. Children do not need to be present. The Y does its best to fulfill the full quantity for each family, but adjustments may be made as a result of availability and demand. We are proud to announce in just 10 service days in March, we distributed over 16,000 meals and look forward to continuing serving you and our communities.
This program is made possible by our partnership with the Michigan Department of Education, United Way of Southeast Michigan, public funding and a host of community partners/donors. We are all working together to provide healthy meals to school age youth up to age 18 and young adults with special needs up to age 26. Coordination of this work is ongoing. Please check our site daily for updates.

Parents and youth may pickup 4 days of meals per child (4 breakfast/4 lunches) each day at the following YMCA and Community Partner locations:
Site
Address
Afternoon Service Time
Mon
Tue
Wed
Thu
Fri
Birmingham Y
400 E Lincoln St, Birmingham, 48009
01:00 – 01:30
X
NA
NA
NA
X
Boll Family Y
1401 Broadway, Detroit, 48226
02:15 – 02:45
X
NA
NA
NA
X
Brightmoor Artisans
22735 Fenkell Avec, Detroit, 48223
01:30 – 02:00
NA
X
NA
NA
X
City Covenant Church
13624 Stout, Detroit, MI 48223
02:15 – 02:45
NA
X
NA
NA
X
Downtown Boxing Gym
6445 E Vernor, Detroit, MI 48207
01:45 – 02:15
NA
X
NA
NA
X
Detroit Riverfront Conservancy
Cullen Plaza 1340 Atwater Detroit, MI 48207
02:45 – 03:15
NA
X
NA
NA
X
Downriver Y
16777 Northline Rd, Southgate, MI 48195
11:30 – 12:00
NA
X
NA
NA
X
Farmington Y
28100 Farmington Rd, Farmington Hills, 48334
12:00 – 12:30
X
NA
NA
NA
X
Great Lakes Crossing

4000 Baldwin Rd, Auburn Hills, MI 48326
11:00-11:30
X
NA
NA
NA
X
Hazel Park Community Center
620 W Woodward Heights Blvd, Hazel Park, MI 48030
04:30 – 05:00
X
NA
NA
NA
X
Jefferson Oaks
22001 Republic Ave, Oak Park, 48237
03:45 – 04:15
NA
X
NA
NA
X
Kulick Community Center
1201 Livernois St, Ferndale, MI 48220
03:45 – 04:15
X
NA
NA
NA
X
Lakeshore
23401 East, Jefferson Ave, St Clair Shores, MI 48080
02:30 – 03:00
X
NA
NA
NA
X
Livonia Y
14255 Stark Rd, Livonia, MI 48154
12:30 – 01:00
NA
X
NA
NA
X
Love Rising Church
21230 Moross Rd, Detroit, 48236
12:45 – 01:15
NA
X
NA
NA
X
Macomb
10 N River Rd, Mt Clemens, MI 48043
01:30 – 02:00
X
NA
NA
NA
X
Oakland Urban Farm
9227 Goodwin
Detroit, MI 48211
03:00-03:30
NA
X
NA
NA
X
North Oakland
3378 E Walton Blvd, Auburn Hills, 48326
12:00 – 12:30
X
NA
NA
NA
X
South Oakland
1016 W 11 Mile Rd, Royal Oak, 48367
11:30 – 12:00
NA
X
NA
NA
X
Y Kitchen/Peaches & Greens
8838 3rd Ave, Detroit, MI 48202
01:00 – 02:00
X
X
X
X
X
Notes:
Children do not have to be present on site for parents to take meals for them. We are going on the honor system when they tell us they have a child, 18 years or younger, that they will be taking the meals to.
We can serve Breakfast and Lunch at the same time.
Parents/Children can take up to 4 days worth of meals.
Children do not have to eat their meals on site.
All meals will be grab and go.
Meals can be served directly from the delivery truck so families do not need to enter the YMCA.
YMCA COVID-19 Food Distribution Healthy Food Preparation and Distribution Process

The meals being distributed at YMCA food distribution sites come from two sources:

1. Unique Food Management located in Pontiac, Michigan
2. YMCA Healthy Living Kitchen housed at Peaches and Greens in Detroit, Michigan

Both sites adhere to all health department guidelines and all the food we distribute meets and exceeds nutritional requirements as prescribed by the USDA

In response to COVID-19 these are our elevated hygiene and sanitary practices:

Food Prep to promote community health
1. We are not allowing any workers who may be ill to prepare or serve food
2. All staff are required to wash their hands frequently for a minimum of 20 seconds before and after food preparation and at any food preparation breaks
3. All staff who prepare food have food handlers certifications and are also required to wear gloves when preparing meals
4. All food contact surfaces, commonly touched surfaces and other surfaces are cleaned before and after food prep using EPA COVID-19 approved cleaners
5. All food is pre-packaged when it leaves either facility

Food Distribution to help insure community member and staff health
1. Food is distributed prepackaged and handed out, outside, directly from sanitized storage containers
2. Encouraging staff to wear masks and gloves as supplies permit
3. Encouraging families to drive up to sites and the Y team will place food in the vehicle
4. Discouraging families from leaving their vehicle to receive food when possible
5. Families walking or riding bikes will still be served
6. Sanitizing van surfaces between uses