We're Training the Future Leaders Here at the YMCA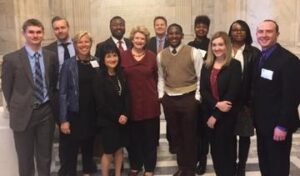 We recently took a contingent of future leaders from Detroit to the Youth in Government conference in Washington, D.C.  Our staff member, Kiylise Crutchfield blogged at the Skillman Foundation website about the experience.
Check out our star, Da Vante Cole from Cody, a future leader of our country.  He's front and center in the picture.
Thanks Kiylise, thanks Skillman and thanks Da Vante!
Here's a link to the blog:
http://www.skillman.org/Knowledge-Center/A-Rose-for-Detroit-Blog/Detroit-Youth-Emerges-as-Leader-in-YMCA-s-Youth-In-Government-Program