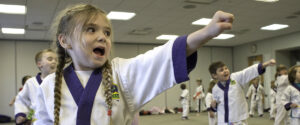 Martial arts are an ancient method of training your mind, body and spirit to act as one. Our Ys offer a variety of styles of martial arts practice, giving you lots of fun ways to achieve fitness and focus, and cultivate self-discipline and socialization skills.
Preschool Martial Arts
Preschool Martial Arts introduces techniques and focuses on balance and coordination through fun activities that promote positive attitudes, develop strength, balance, coordination, flexibility, discipline and teaches enhanced concentration & self confidence.
Karate - Preschool (Tiny Tigers)

Age Group:

Dates:

Days & Times:

Location:

register

Age Group:
Early Childhood, at least 3 years but less than 5 yearsDates:
4/18/19–5/30/19 Days & Times:
Location:
Farmington Family YMCA register

Karate - Preschool- Tiny Tigers

Age Group:

Dates:

Days & Times:

Location:

register

Age Group:
Early Childhood, at least 4 years but less than 6 yearsDates:
4/19/19–6/7/19 Days & Times:
Location:
Lakeshore Family YMCA register

Little Ninjas

Age Group:

Dates:

Days & Times:

Location:

register

Age Group:
Early Childhood, at least 3 years but less than 7 yearsDates:
6/15/19–7/20/19 Days & Times:
Location:
Downriver Family YMCA register

Age Group:
Early Childhood, at least 3 years but less than 7 yearsDates:
7/27/19–9/7/19 Days & Times:
Location:
Downriver Family YMCA register