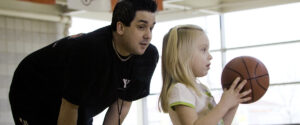 At the Y, children learn basic basketball skills using age-appropriate equipment (i.e. smaller balls and baskets for preschool ages). They do fun drills and games that teach ball handling and shooting skills. Early in the program, skill work is stressed as they practice, and as players develop, coaches work on the idea of team play and basic strategy.
Preschool Basketball
A great introduction to the game of basketball, where kids learn basketball skills like dribbling and shooting, but the main focus is getting them acclimated to working in a team setting with others. Our program uses age appropriate equipment and modified rules to help children be successful and develop properly.
Youth Basketball
The coaches in our youth basketball clinics and instructional classes teach participants how to improve their dribbling, shooting, defensive, and team work skills. Youth clinics aim to build on and improve fundamentals while introducing more advanced skills.
YMCA basketball leagues emphasize good sportsmanship and skill development in a fun, safe setting. Players will continue improving on individual skills of the game, but much more important the program will teach them teamwork, persistence, and communication. Our Ys offer both Inter-Y leagues and community leagues, depending on location.
Adult Basketball
Adult Basketball at the Y emphasizes good sportsmanship and skill development in a fun, safe setting.
Adult Basketball

Age Group:

Dates:

Days & Times:

Location:

register

Age Group:
Adult, at least 18 years but less than 99 yearsDates:
4/15/19–6/3/19 Days & Times:
Location:
Lakeshore Family YMCA register

Adult Basketball League

Age Group:

Dates:

Days & Times:

Location:

register

Age Group:
Adult, at least 18 years but less than 60 yearsDates:
5/12/19–9/1/19 Days & Times:
Location:
South Oakland Family YMCA register