Sam Bernstein Law Firm Supports Detroit Swims Program for Second Year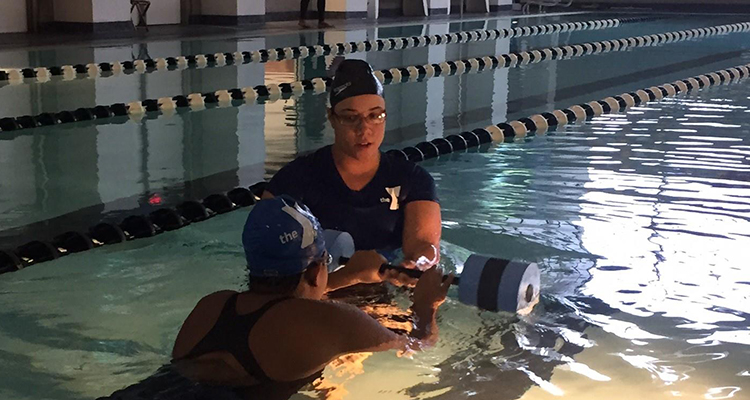 To support Detroit youth, The Sam Bernstein Law Firm has provided funding for a second year to the "Detroit Swims" program run by YMCA of Metropolitan Detroit. Support from The Sam Bernstein Law Firm is helping the YMCA reach its goal of teaching 1,500 children to swim each year that would not otherwise have the opportunity due to finances, pool access, or transportation.
The Sam Bernstein Law Firm's funding, provided through CBS EcoMedia's WellnessAd program, will specifically support lifeguards, volunteer and staff training and instruction, and access to pools for children and young people in the Detroit Swims program in 2016.
Swimming not only ensures water safety of Detroit's youth, but also provides a wide range of other positive health and wellness outcomes. YMCA's "Detroit Swims" curriculum is flexible to meet the children where they are, and ensures that every child can be confident in and around the water.
Last week, Boll Family YMCA hosted representatives from The Sam Bernstein Law Firm and CBS 62 and CW50 to celebrate their support of the "Detroit Swims" program. To view photos of the celebration, please visit www.facebook.com.
"The Sam Bernstein Law Firm has always been committed to supporting Michigan families who need it most," said Mark Bernstein, President and Managing partner at The Sam Bernstein Law Firm. "We are proud to continue to support The Boll Family YMCA's swim program, which is a great example important community programming that helps our kids gain self-assurance in the water and build confidence in themselves. We are proud that our additional support for the "Detroit Swims" program will help the YMCA accomplish more of this important work."
"Through this generous support, we are able to help more youth learn important and potentially life-saving skills to ensure they are safe around water," said Kris Stimac, Executive Director of the Boll Family YMCA. "Too many children in our community can not swim and as such we are putting them at an unnecessary risk. Funding from The Sam Bernstein Law Firm will allow us to continue breaking down barriers that prevent kids from learning to swim so that every child, regardless of their background, can be safe around water."