Nutritious Holidays Start Here-Fresh Baskets 2016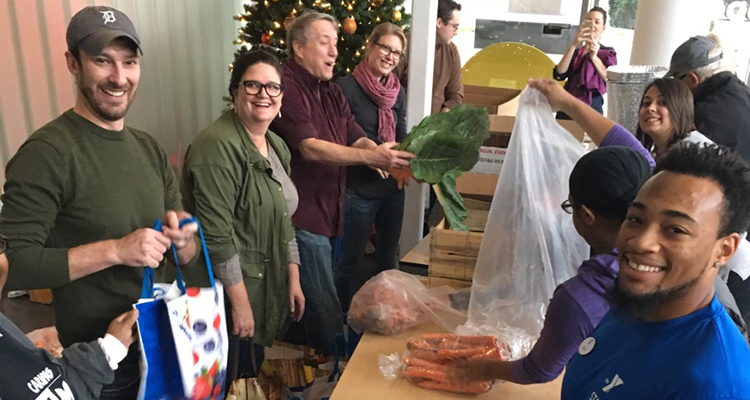 "A lot of times I feel forgotten.  The best part about receiving this basket is being able to connect with someone and know that there are people looking out for me," Elaine, a Detroit senior who received a bounty of fresh foods during the Healthy Living and Life Skills' 3rd Annual Fresh Basket Program.
Thanksgiving is a time for families to gather together and share a meal, but for many in the Metro-Detroit community, access to healthy, affordable options is an ongoing hardship and the holidays come as an added cost, not a reason to celebrate.  Many families in our communities of Detroit and Pontiac find themselves living amidst a food desert, where it is easy to find a convenience store, but nearly impossible to find a spot that sells fresh produce. Financial hardship, alongside accessibility and lack of  transportation, provide insurmountable limitations to families in the community that desire the same opportunity to provide a nourishing Thanksgiving for their loved ones. The Healthy Living and Life Skills YMCA has endeavored to diminish those hardships for area families through their Fresh Basket Program.
In its 3rd year, the Fresh Basket Program works with area businesses and food access agencies to provide locally sourced, nutritious items for a Thanksgiving spread. The 2016 project established a new partnership with Gleaner's Mobile Grocery, a pop-up style market that aims to make low-cost groceries accessible in communities that lack fresh food access.  Additional partnerships included Amish turkeys from Peacock Farms in Troy, bread from Avalon Bakery, and apples from Verellen Orchards. Each basket contained various produce and shelf stable items such as flour and broth to prepare a meal, plus dairy products, a turkey, and a variety of recipes and community resources.  Seniors received a frozen pot-pie, prepared by Peacock, along with produce.  Through working with these agencies, and the generosity of donors throughout Metro-Detroit, over 50 families and 15 seniors received holiday food assistance, that is over 300 individuals across 4 counties that were able to enjoy a nutritious Thanksgiving meal! 
Dozens of volunteers prepared the baskets at the Boll Family YMCA and delivered them to registered families and seniors the Saturday before Thanksgiving.