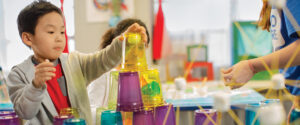 With a focus on safety, health, social growth and academic enhancement, our Afterschool Care program serves kindergartners through middle schoolers with a variety of activities to explore and develop their interests and talents when the school day ends.
Afterschool delivers a safe, secure, inclusive environment with staff committed to nurturing the potential of each child in our program.
Children in our program develop valuable life skills through activities like homework assistance, arts and crafts, literacy, board games, group games, and outdoor play. They also make healthy choices that include eating nutritious snacks, taking time for active play, and participating in healthy activities.
The YMCA of Metropolitan Detroit serves neighborhoods throughout Southeastern Michigan in partnership with local academies and Pubic School Districts by offering affordable school-age child care to families. We provide care directly at the school, based on the school calendar, and at the Y on days that school is canceled or out.
Activities
The activities and atmosphere of the program are designed to meet the developmental, academic, physical, emotional, and social needs of the children served. Each YMCA Afterschool Site Supervisor develops a specific schedule to meet the particular needs of the children at their site. The program includes*:
Homework Help
Arts and Crafts
Literacy
Board Games
Building
Group Games
Outdoor Play
Healthy Snacks
Nutrition Activities
*Activities are subject to change.
Schools We Serve:
We serve a number of schools in Macomb, Oakland, and Wayne County. For more details about specific locations, select the YMCA branch that your school is listed underneath.
Cornerstone Charter School

Lincoln King Academy
Washington Parks Academy
Madison Carver Academy
Jefferson Douglas Academy

University Preparatory Academy (UPA)

UPA Mark Murray
UPA Ellen Thompson
UPA Middle
UPA Science & Math

Henry Ford Academy
Detroit Achievement Academy
Detroit Prep
Wyandotte Schools
Lincoln Park Schools
Melvindale Schools
Metro Charter Academy
Taylor Exemplar Academy
Summit Academy North
Summit Academy Flat Rock
Farmington Hills Schools

Beechview Elementary School
Forest Elementary School
Gill Elementary School
Hillside Elementary School
Kenbrook Elementary School
Lanigan Elementary School
Longacre Elementary School
Power Upper Elementary
STEAM Academy
Warner Upper Elementary
Woodcreek Elementary School
East Detroit Schools

Bellview Elementary School
Pleasantview Elementary School
Forest Park Elementary School
Crescentwood Elementary School

Reach Academy
Van Dyke Public Schools

Carlson Elementary School
Kennedy Elementary School
Lincoln Elementary School
McKinley Elementary School
Oakside Scholars Charter Academy