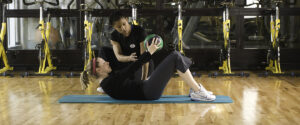 We all need the advice of an expert sometimes, as well as the personal attention that comes with a trainer or coach. Our Ys offer personal training and coaching to help you set and meet your goals to live healthier. Our trainers are nationally certified, with a range of backgrounds and expertise. They strive to provide motivation, guidance and hands-on assistance to help you reach your goals.
You can see a list of our Y trainers on the Health & Fitness page of your local Y's website. Find your Y to get started, or contact us online for more information.
Y Fitness Solutions
Whether you're looking to focus on fat loss, strength training, sport-specific conditioning, or simply improving overall health, our solutions are customized to help you meet your goals.
General Health Improvement
This solution is for individuals who want to start feeling and moving better, or individuals that have been told by a physician to start an exercise and nutrition plan to cope with or prevent a chronic illness. It also addresses flexibility and mobility issues.
Fat Loss
Our Fat Loss solution is for anyone with the specific goal of losing weight. Our trainers will teach you the most effective, scientifically proven fat loss methods, and help coach you through the lifestyle changes that lead to healthy fat loss.
Performance & Power
Whether you're interested in entering your first marathon or powerlifting competition or you're a veteran competitor, this solution will help you improve your performance and recovery. Amateur and advanced athletes of all ages and ability levels are welcome!