Activities at Day Camp
Please note that some activities are only available to older campers.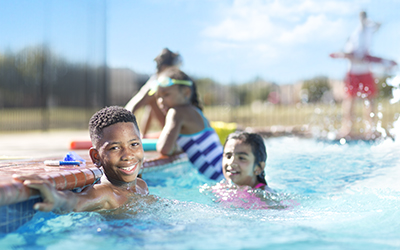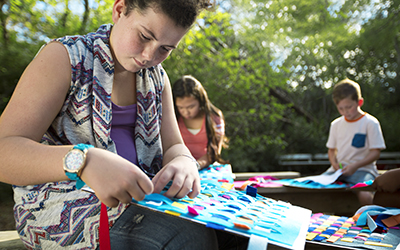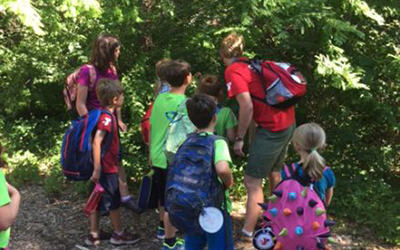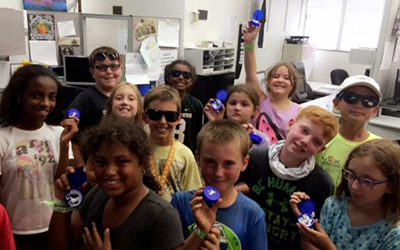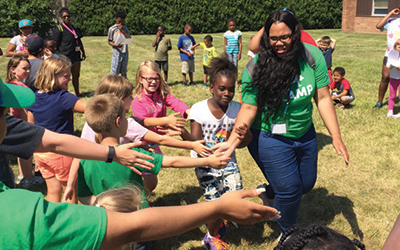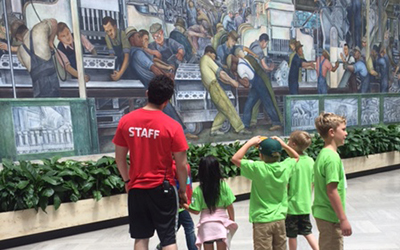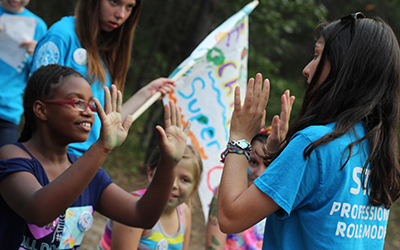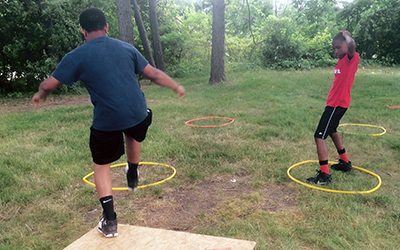 Camp Dates & Weekly Themes
Week A (June 11–15): Rhythm & Rhyme
Learn some dance moves, make rhymes and write Y camp songs as we boogie to the beat!
Week B (June 18–22): Amazing Adventure
Team up to compete by solving clues, completing challenges and finding your way to the finish. Will you make the best time?
Week C (June 25–29): Tropical Paradise
Break out your Hawaiian shirt, get your Hula on and join us for the best luau of the summer! Make a lei, compete in the limbo contest, or just hang loose as we travel to paradise.
Week D (July 2–6): Time Warp
Travel back in time to the 50's, 60's, 70's, 80's and 90's. Dress up in the styles of each decade, learn about popular games, music and trends from the past.
Week E (July 9–13): Surf's Up
Ride the wave of wacky water fun in our wettest week of the summer! Arm yourself with water balloons, pack your swimsuit, win a water relay, and prepare to get soaked.
Week F (July 16–20): Camp Spirit
We've got spirit yes we do! No sad faces allowed this week as the crazy socks, goofy hats and other wild things come out as we show our spirit to one and all.
Week G (July 23–27): The Great Outdoors
Grab your net, binoculars, and compass as we head into the forest. Explore plants, animals, and bugs all while learning outdoor and camping skills.
Week H (July 30–August 3): Treasure Island
Arrg Matey! Can you help us fi nd the lost treasure? This week will be spent on the high seas with your favorite Pirate friends. Don't forget your eye patches me hearties!
Week I (August 6–10): Under the Sea
Dive into the great unknown as we explore underwater wonders. Mermaids, shells, fish, whales and SHARKS abound as we are transported under the sea through craft projects, storytelling, skits, and friendly competitions.
Week J (August 13–17): Choose Your Adventure
Determine your own destiny and decide which direction to go – discover new games and adventures along that way.
Week K (August 20–24): Crazy Carnival
Join us for a week of fun and games – take your chances on the ring toss, win prizes, and see what's under the big top.
Week L (August 27–31): The Great Camp Mystery
Each day will bring a new surprise by finding clues, solving riddles and discover whodunit!
About Y Day Camp
Safe, Licensed Program
Safety is our motivation at the Y. We hold our programs to the very highest standards through internal assessments and external inspections. Many of our summer day camps voluntarily fulfill with third party requirements and regulation, including state-licensing and/or ACA accreditation. This helps further ensure a safe, healthy and worthwhile camping experience.
Certified, Well-Trained Staff
Y counselors are dedicated to making sure summer day camp is an amazing experience for every camper. Each "Professional Role Model" has the knowledge and training to make each moment of your camper's summer fun and enriching. Our staff believes in developing youth through nurturing the potential of every camper.
Camper-Counselor Ratios at Camp
• 6 campers : 1 counselor for ages 3-5
• 8 campers : 1 counselor for ages 6-8
• 10 campers : 1 counselor for ages 9-11
• 12 campers : 1 counselor for ages 12-17
Staff Qualifications
All Y staff meet the following criteria before joining our team:
• CPR certification
• First Aid certification
• Child Safe certification
• Background check
• Drug screen
Financial Assistance Available to Qualified Families
We work hard throughout the year so everyone can be a part of the Y. Our Annual Campaign makes financial assistance available for those who qualify. For more information or for application materials, please contact our Y.
Metro Detroit YMCA Day Camp Open Houses
At Day Camp Open House, you can meet camp staff members, tour the Y, ask questions and learn about camp, and enjoy special discounts when you register on-site. Every location has special activities planned during Open House, so contact your local Y for details.
Birmingham Family YMCA

Saturday, January 27, 10:00 am–12:00 pm
Saturday, March 24, 10:00 am–12:00 pm
Saturday, May 12, 10:00 am–12:00 pm

Boll Family YMCA

Saturday, January 27, 11:00 am–1:00 pm
Saturday, March 24, 11:00 am–1:00 pm
Saturday, May 12, 11:00 am–11:00 pm at Camp Okonoka on Belle Isle

Carls Family YMCA

Saturday, January 27, 10:00 am–2:00 pm
Saturday, March 24, 10:00 am–2:00 pm
Saturday, May 12, 10:00 am–4:00 pm

Downriver Family YMCA

Saturday, January 27, 11:00 am–1:00 pm
Saturday, March 24, 11:00 am–1:00 pm
Saturday, May 12, 11:00 am–1:00 pm

Farmington Family YMCA

Saturday, January 27, 11:00 am–1:00 pm
Saturday, March 24, 11:00 am–1:00 pm
Saturday, May 12, 11:00 am–1:00 pm

Lakeshore Family YMCA

Saturday, January 27, 1:00–3:00 pm
Saturday, March 24, 1:00–3:00 pm
Saturday, May 12, 1:00–3:00 pm

Livonia Family YMCA

Saturday, January 27, 1:00–3:00 pm
Saturday, March 24, 1:00–3:00 pm
Saturday, May 12, 1:00–3:00 pm

Macomb Family YMCA

Saturday, January 27, 1:00–3:00 pm
Saturday, March 24, 1:00–3:00 pm
Saturday, May 12, 1:00–3:00 pm

North Oakland Family YMCA

Saturday, January 27, 11:00 am–1:00 pm
Saturday, March 24, 11:00 am–1:00 pm
Saturday, May 12, 11:00 am–1:00 pm

Plymouth Family YMCA

Saturday, March 24, 11:00 am–1:00 pm

South Oakland Family YMCA

Saturday, January 27, 10:00 am–12:00 pm
Saturday, March 24, 10:00 am–12:00 pm
Saturday, May 12, 10:00 am–12:00 pm