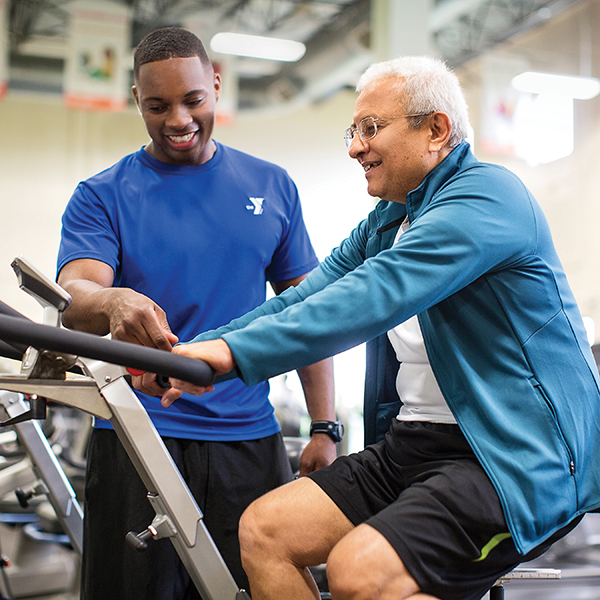 Because we know that healthy lifestyles are achieved through nurturing mind, body and spirit, well-being and fitness at the Y is so much more than just working out. At the Y, a supportive community is a big part of wellness. At every age and level of activity, you'll find people just like you looking to lead healthy lives. Members and program participants often cite the support and enthusiasm of fellow participants and staff as some of the key factors in their achievement of greater well-being.
Group Exercise Classes
Joining a group exercise class can help build a foundation and structure that you can use to fuel your personal health journey for years to come. It's inspiring and motivating to be surrounded by dedicated, like-minded individuals.
Personal Training – Y Fitness Solutions
We all need the advice of an expert sometimes, as well as the personal attention that comes with a trainer or coach. Whether you're looking to focus on fat loss, strength training, sport-specific conditioning, or simply improving overall health, our solutions are customized to help you meet your goals.
Training for General Health Improvement
This solution is for individuals who want to start feeling and moving better, or individuals that have been told by a physician to start an exercise and nutrition plan to cope with or prevent a chronic illness. It also addresses flexibility and mobility issues.
Training for Fat Loss
Our Fat Loss solution is for anyone with the specific goal of losing weight. Our trainers will teach you the most effective, scientifically proven fat loss methods, and help coach you through the lifestyle changes that lead to healthy fat loss.
Training for Performance & Power
Whether you're interested in entering your first marathon or powerlifting competition or you're a veteran competitor, this solution will help you improve your performance and recovery. Amateur and advanced athletes of all ages and ability levels are welcome!
Meet Our Personal Trainers
Healthy Lifestyle Programs
Living healthy is about spirit, mind and body at every age and stage. Our Ys offer classes and programs for those dealing with chronic disease, joint and injury rehabilitation, in addition to health assessments and wellness coaching.
LIVESTRONG® at the YMCA
LIVESTRONG® at the YMCA is an evidence-based program that helps adult cancer survivors reclaim their health and well-being following a cancer diagnosis.
This twelve week program is facilitated by YMCA certified instructors that are trained in cancer survivorship, post rehabilitation exercise and supportive cancer care. Through this program Ys create communities among survivors and guide them through safe physical activity, help the them build supportive relationships, and reduce stress, leading to an improved quality of life.
The program offers people affected by cancer a safe, supportive environment to participate in physical and social activities focused on strengthening the whole person. Participants work with Y staff trained in supportive cancer care to achieve such goals as:
building muscle mass and strength
increasing flexibility and endurance
improving balance
improving confidence and self-esteem
improving emotional wellbeing of survivors and their families
connecting with other survivors during treatment and beyond
Who can participate in LIVESTRONG® at the YMCA
Any adult 18 years old or older who is living with or beyond cancer treatment. YMCA membership is not required. For more information and to get started, please contact us online.
Water Fitness
Take to the water for fun and fitness! We offer a variety of water fitness programs for all fitness levels—and you don't have to be a swimmer to participate! The aquatic exercise programs—which take place mainly in the shallow water— range from joint range of motion classes to high intensity aerobic classes. Exercising in the water provides a challenging workout in a near weightless and zero impact environment.
DMC Rehabilitation Center
The DMC's Rehabilitation Institute of Michigan, Milford Center is located at our YMCA and provides a variety of physical therapy services. For over 50 years, Rehabilitation Institute of Michigan (RIM), has been helping people rebuild their lives after a serious illness or injury. We do this by delivering comprehensive rehabilitation services based on cutting-edge treatment techniques, innovative research, and excellent, personalized medical care. RIM Rehab Milford physical therapy center offers extensive experience in many specialty areas, such as: Physical Therapy, Sports medicine, Occupational Therapy, Sports medicine, Occupational Therapy, Hand Therapy and Speech-Language Pathology.
RIM Milford Center is open Monday-Wednesday-Thursday from 6:30am – 7:00pm and Tuesday from 7:00am – 3:00 pm. We work with most major insurance carriers.
Physical Therapist from DMC Rehabilitation Institute of Michigan are on-site to help with all your rehabilitation needs including:
Post-surgical rehabilitation for hips, knees and shoulders
Exercises to improve strength, balance and flexibility
Arthritis
Bladder Control
Difficulty walking
For more information call 248-684-6657