Activities at Day Camp
Please note that some activities are only available to older campers.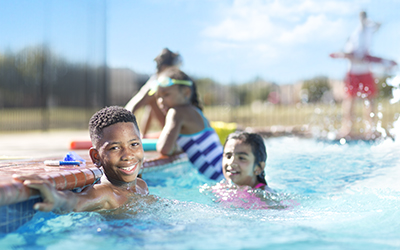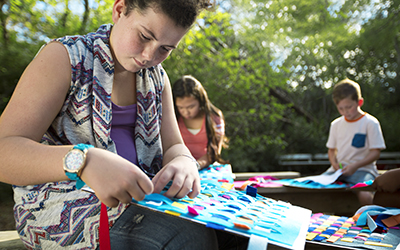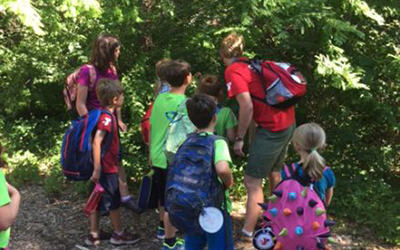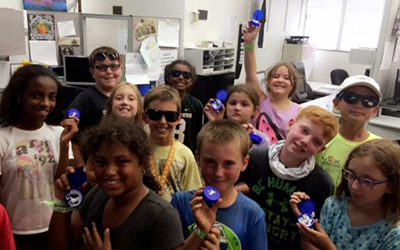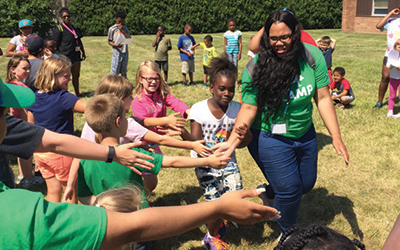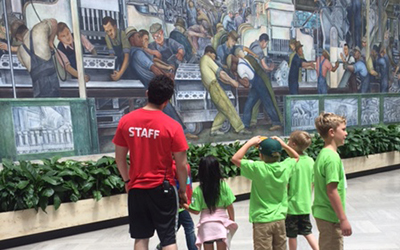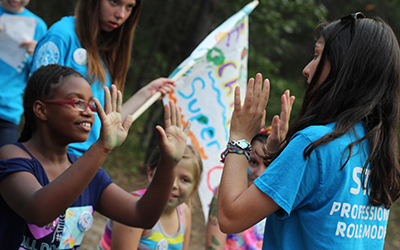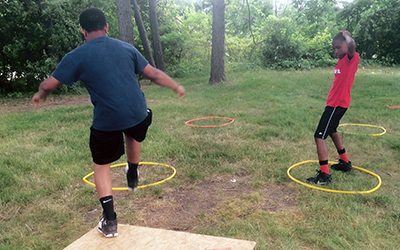 Camp Dates & Weekly Themes
Week A (June 12–16): Career Week
Wind the clock forward and join us as we fly into the future. Use your imagination and explore your future dream job. Nothing could be more exciting than building your own fantasy future!
Week B (June 19–23): Holidays
What's your favorite Holiday? It matters not! Come all ye faithful because we've got all the big ones wrapped into one fantastic week. Celebrate them all – Halloween, Thanksgiving, Christmas, and more!
Week C (June 26–30): Space
Calling all future astronauts! The depths of space are full of possibilities for discovery, from rockets to aliens; this week will be out there. To infinity and beyond!
Week D (July 3–7): Sports
Whether you love basketball, soccer, tennis, or another sport, you'll learn lessons centered on teamwork and sportsmanship. Campers of all abilities will learn and play a variety of sports during sports week.
Week E (July 10–14): Water
Dive into our wettest week! Discover the depths of the ocean, its wild creatures, and the pirates that once sailed the seas. Arm yourself with water balloons, pack your swimsuit, and prepare to get soaked.
Week F (July 17–21): Carnival
Fire up the cotton candy machine and crank up the fun, because it's time for the Y Carnival. Step right up and try your hand at the ring toss, stop by the face painting stand, or maybe win a special prize at one of the game stations. These are just a few activities that await!
Week G (July 24–28): Disney
Be Our Guest, Be Our Guest! We are on a fast pass through the entire magical world of Disney! With Disney themed activities each day, we are bringing the magic to camp all week.
Week H (July 31–August 4): Science
Science is all about exploration. If you can dream it, you can create it! Design experiments with friends and build hands-on projects while diving deep into your curious mind.
Week I (August 7–11): Pirates
Arrg Matey! Can you help us find the lost treasure? This week will be spent on the high seas with your favorite Pirate friends. Don't forget your eye patches me hearties!
Week J (August 14–18): International
Grab your passports as we travel around the globe to visit different cultures/countries though games, music, foods and crafts. We'll end our travels with a stop at the "Y"!
Week K (August 21–25): Superhero
There is no place better than camp to practice your superhero powers! Together with our super camp staff, you will do extraordinary things.
Week L (August 28–September 1): Spirit
We've got spirit yes we do! No sad faces allowed this week as the crazy socks, goofy hats and other wild things come out as we show our spirit to one and all.
About Y Day Camp
Safe, Licensed Program
Safety is our motivation at the Y. We hold our programs to the very highest standards through internal assessments and external inspections. Many of our summer day camps voluntarily fulfill with third party requirements and regulation, including state-licensing and/or ACA accreditation. This helps further ensure a safe, healthy and worthwhile camping experience.
Certified, Well-Trained Staff
Y counselors are dedicated to making sure summer day camp is an amazing experience for every camper. Each "Professional Role Model" has the knowledge and training to make each moment of your camper's summer fun and enriching. Our staff believes in developing youth through nurturing the potential of every camper.
Camper-Counselor Ratios at Camp
• 6 campers : 1 counselor for ages 3-5
• 8 campers : 1 counselor for ages 6-8
• 10 campers : 1 counselor for ages 9-11
• 12 campers : 1 counselor for ages 12-17
Staff Qualifications
All Y staff meet the following criteria before joining our team:
• CPR certification
• First Aid certification
• Child Safe certification
• Background check
• Drug screen
Financial Assistance Available to Qualified Families
We work hard throughout the year so everyone can be a part of the Y. Our Annual Campaign makes financial assistance available for those who qualify. For more information or for application materials, please contact our Y.